Oasis has specialised in the private/non-conforming lending area for over 28 years and has an impeccable reputation. Below are a few of the testimonials we have received over time.
Graham, Oasis' director was also:
• Past National President Finance Brokers Association of Australia – FBAA
• Founding NSW President Finance Brokers Association of Australia – FBAA
• Past Fellow Financial Services Institute of Australasia – FFSIA
• Winner of 3 Australian Mortgage Awards for non-conforming
• Inventor and patent holder for Loan Kiosk
• Keynote Speaker/Chairperson at multiple finance conferences
• Software designer of "Loan Assessment Software"
• MPA Top 20 Influencers
• Published Author – Radio Commentator – Podcaster
• Past Small Business Editor for Charter Magazine 
• Past print and digital Publisher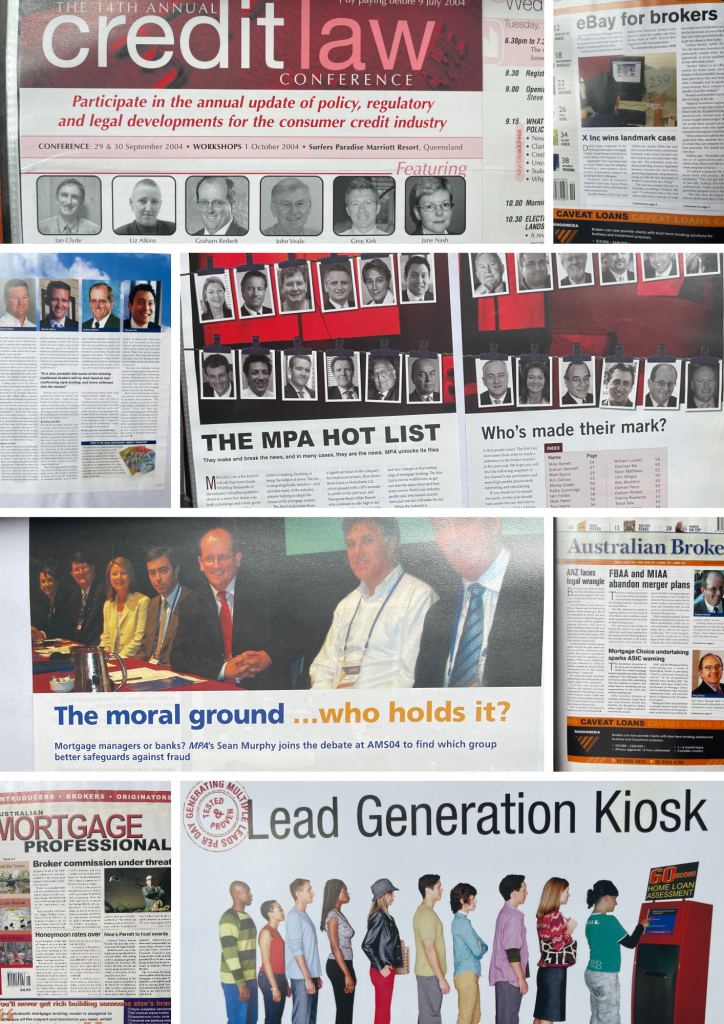 David – Finance Broker
I recently had the pleasure of using Oasis in the placement of an unusually difficult submission. Oasis' prompt service, attention to detail, and ability to set the transaction was second to none. I thoroughly recommend Oasis' services!
Ali – COO & Co-Founder
Oasis possess a unique combination of brilliance, humility, pragmatism, and understanding. They are a joy to work with. Oasis' solutions are engaging, insightful, informative and entertaining – a perfect combination that really resonated with the work. I would definitely join in almost any idea coming from him.
Julie – Mortgage Broker, Finance Manager and Director
Oasis is a company I would highly recommend to any Broker who works in the commercial world of finance. They are dedicated to his peers in finding solutions that are outside standard lending policies.
Robert – Director – Broker
It is always a pleasure to send an enquiry through to Oasis, this would normally be a financing problem that needs solving for a client. Oasis' responds very promptly. Their solutions are knowledgeable and decisive. We always feel assured that they have their ear to the ground and is up with the latest in funding providers and their policies. I look forward to further dealings with Oasis.
Stephen – Mortgage Manager
I have known and dealt with Oasis for some time now. As Mortgage Managers our relationship with Oasis is as a facilitator. Through this time, Oasis has shown they have an impressive knowledge of the mortgage industry and I am always amazed by the new and exciting initiatives Oasis is working on or creating. Brilliant operator.
Justin – Mortgage Manager
For several years Oasis has been a valued partner. We have not hesitation in recommending OASIS for their funding requirements.
Tim – Broker
Oasis has been a significant company within the mortgage industry for over 20 years. I have known and worked with them for many of those years and found them diligent and strongly dedicated to their work.
Greg – Lender
Graham is one of the pioneer brokers in the Non-Conforming space. Being a former Bluestone employee for 5 years and a subsequent business operating in that space Graham is one of the first people I needed to have onside. Many know Non-Conforming, few understand and operate a business with Non Conforming as the cornerstone. Through Oasis Graham was a valuable contributor to the success of Bluestone. He directed his business to that space through advertising and promotion. Many brokers see these clients as second class citizens, Graham saw them as individuals worthy of a chance to improve their position. We need more people with his commitment and passion for this sector.
Ricardo –  Mortgage Manager
I have personally know Graham for over a decade and on both a personnel and business level I am yet to meet anyone who has as much drive and passion as Graham. It was he's drive when we were both at the Finance Brokers Association nationally which was the reason for the growth that was achieved and the exposure that the association received. This same drive and passion is reflected in he's Non Conforming Lending Business which is second to none. I would strongly recommend any working in this space to talk with Graham.
Trevor – Aggregator/Lender
I have known Graham since 1997, when I first became involved in Australia's then fledgling Non-conforming industry. Since that time, I have dealt with Graham in his capacity as founder and operator of Oasis Mortgages, through Three Non-conforming lending businesses, with which I have been associated. Graham has been a pioneer in this sector of the industry, and his extensive knowledge is recognised by his peers, and lenders alike. There would be few individual in the Australian Mortgage industry that not only has the knowledge, but also the drive to see the sector be accepted as a genuine lending alternative for Borrowers who do not meet mainstream lending criteria. Graham's support for the industry in general has been very strong, and is evidenced by his involvement in non lending activities such as his involvement with industry bodies such as the FBAA.
Simon – Lender 
I have worked with Graham since 1992. My specific focus has always been in the non-conforming mortgage sector as a lender. Graham has provided our company with significant business over many years and it is always a pleasure doing business with Graham as he is a true professional, trustworthy and reliable. His knowledge of this sector of the industry in unparalleled, his systems and thoroughness is remarkable. Graham is one of the members of this industry who puts more back into furthering the professionalism of the industry and creating innovative technologies to enable greater efficiencies for both the consumer and broker. We highly recommend Graham for his enthusiasm, commitment and passion to the non-conforming mortgage industry. He never ceases to impress with his ideas and innovations. Graham is one of the members of this industry that truly reflects and upholds the ideals of a professional in the mortgage industry, a leader that leads by example and encourages others to do the same.
Duco – Lender
Graham's understanding and knowledge of the specialised mortgage industry is unquestionable as he was one of the first to specialise in non-conforming mortgages. This clearly shows in the consistency of the quality of loans submitted. His drive and constant desire for innovation in the non-conforming segment of the mortgage market has simply been fantastic for the industry.
Dean – Mortgage Manager
Graham is a genuine, professional individual who likes to work with innovative people. He has an incredible enthusiasm for improving the Australian Mortgage industry. Having worked with Graham for several years on new and innovative non conforming mortgage products, I would highly recommend Graham for any brokers looking for an alternative non conforming aggregator or a knowledgeable, professional, interesting industry representative to have an intelligent discussion with.
Ian – Lender
While we have only been dealing with Oasis for a few years we have found them to be extremely professional and knowledgeable when it comes to non-conforming lending.
Stephen – Broker
Oasis are expert in the Financial Services Industry having built a number of successful organisations. I would have no hesitation in recommending Oasis' services to anyone.
Scott – Business Trainer
Graham approaches his business with energy and enthusiasm. Whether he's speaking on financing, sales or marketing, he speaks from experience. The interviews and conversations that Graham has granted us at BuilderRadio have been enlightening and rank among the most downloaded programs we've done. I give Graham my highest recommendations and endorsement.
Elmor – Mortgage Manager
Graham has demonstrated to me his professionalism towards his colleagues and to the industry. He always carry his ethical and honest approach in reaching a common solution to his client's requirements especially in Non- Conforming area. He is very likeable and approachable human being. He has an impeccable vision in improving the system for the betterment of the future user in the industry. Very innovative Market Leader. I will not hesitate to do business with Graham, be it Non-Conforming or other matter in the Mortgage Industry.
Robert – Lender
My company has accepted loan application from Oasis for over 20 years and in that time we have always found them to be ethical, honest and professional in all dealings. From the quality of the applications submitted by Otis it is clear that he has an excellent knowledge of the non- conforming market and we continue to be happy to receive applications from him.
Darrell – Professional Trainer
Graham is one of those rare individuals who really knows their stuff. He is an innovator and forward thinker of the first degree who is always looking for new and better ways to do things. In all my dealings with Graham he has always been the consummate professional. A true leader.
Jerry – Marketing Specialist
The first word that comes to mind with Graham is: impressive. Frankly, I don't know how he accomplishes as much as he does. As a manager, he is exemplary—consistently working ON his operation to improve systems and processes. The result is that he keeps his promises. If he says he or his team will do something, you can count on delivery. Coupled with this, he is a good, down- to-earth bloke. Easy to get along with and highly regarded. His business has grown steadily in a tough market, and there is no doubt that his tenacity, eye for opportunity AND strong service ethic are driving it. I have no hesitation in recommending Graham as a person who is smart, articulate and helpful — certainly a pleasure to do business with.
Eddy – Client
My experience with Graham was world class. I would recommend Graham and Oasis to all friends and family.
David – Mortgage Manager
Graham is an innovator. His work in the mortgage industry has been ground-breaking and I wish his company, Oasis Mortgage Group, every success.
I have had numerous business dealings with Graham over the years and I applaud him for his motivation and commitment to the non-conforming sector. At a time when the non-conforming arena is hanging precariously in the balance, Graham brings a high level of enthusiasm, innovation and knowledge to the table.
Rashid – Professional Trainer
I've known and worked with Graham on various projects since 2003. In all this time I have found Graham to be the consummate professional. He does what he says he will, when he says he will – and that's pretty rare these days!

I've also been very impressed with the innovative ideas he comes up with – but more importantly that he actually implements them providing real value to his clients and business partners such as myself.

As such I give Graham my highest recommendation both as a friend and colleague.
David – Mortgage Manager
Our Company has dealt with the Oasis team for over 20 years. Over that period we have written many successful deals. From experience, Oasis has an ability to quickly source the right deal for proposed borrowers. This sets them apart from other brokers that we have dealt with. Graham has an intimate knowledge of the non conforming Mortgage Industry, particularly at the legal compliance and macro levels. We look forward to working with Graham and Oasis in the future.
Bruce – Broker
Excellent communicator, knows his area of expertise very well, very knowledgeable and competent mortgage professional. I have no hesitation in recommending Graham to anyone considering finance."
Peter – Marketing specialist
I have known Graham for many years. During that time I have always felt content that I was dealing with a professional, someone who knew what he was talking about and who always honoured his commitments. Our relationship has developed based on a high level of trust, which I don't always find in business. His enthusiasm for business and for trying new ideas is boundless – he is always looking for new and better ways of doing things. People like Graham encourage the rest of us to try harder."
Hollie – IT Specialist
I first approached Graham in 2005 while doing research on how the Mortgage Industry operates and the in's and out's of Non Conforming Loans. He appeared to be the man to talk to ….. and he was. He knew everything I needed to know and explained it in perfect detail. Graham has been an integral part of helping my business succeed, he's been a wonderful mentor and I trust his advice and knowledge implicitly.